Joined

Jan 30, 2002
Messages

7,198
I'm in love.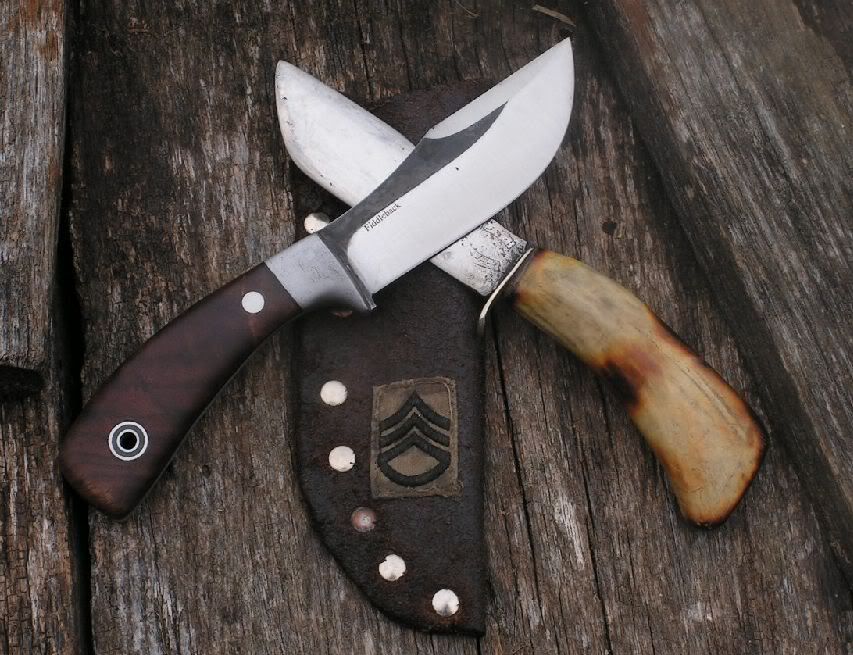 Original Post from Wilderness and Survival Skills forum:
It ARRIVED !!! Evolution of a classic!!!

--------------------------------------------------------------------------------

The rural route carrier showed up today with a wondrous knife...the "one-knife" for me, I think.

I'm a meat hunter. As much as I love various blades I have, and have seen, I don't "collect" knives. Sometimes, just the small variety I have annoys me because I have to rotate them to feel justified in having so many.

I think those days are done. Fiddleback Forge, Andy Roy's hangout, took a crude design I'd done years ago, which had subsequently become a 200-ish run of HI knives...and has created, or re-created a classic Practical Hunting knife.

I just love the handle (hugely important to me), the execution of the blade shape with its various bevels for not just field dressing a whitetail, but processing it, as well, and the synthesis of artistry, history, function and substance it incorporates.

The original had a cut-off spoon handle as a finger-guard. Fiddleback (at least this one) has a wrought iron bolster, substantially protecting the hand as it grips the walnut slabs on the serious full tang blade. The blade is astonishingly sharp, and the false edge is perfect for separating the legs and joints for quartering and processing.

Right now, it is going to go with me in the home-made SARGE sheath, where, for all its beauty, it fits quite naturally.

It was made to work.