The post lady came today and dropped off my much anticipated order containing the Fiskars X7 and the Mora Bushcraft Black Survival. I got the Fiskars to use camping and backpacking as a companion to my folding saw. I figured if I am going to be carrying a saw and a hatchet, there's no need to carry a heavy fixed blade; so I picked up the Bushcraft Black as a lighter alternative to my other 3/16"+ blades to bring along with the hatchet. I have a Mora Companion but wanted something a bit sturdier. Well the Bushcraft Black certainly is beefy....a little too beefy?. It is far heavier than I expected, especially with the survival sheath. This is great for its intended purpose, but it really doesn't offer a whole lot of weight savings over something like a BK16 or even a Tops Bob...and it gives up some durability because it is not full tang. It's too heavy to be a backup, and for some it can't be a primary because of the rat tail tang- that's a personal decision. I really like the modular sheath set up because it allows the knife to be comfortably worn even when sitting and it contours to your body movements very well; the ferro rod is top notch, and I like the flat piece of fine 600 grit sharpening stone vs the V notch ones you get on most of the on-sheath-sharpeners; a scandi grind is very easy even for a novice to sharpen on a flat stone. I do not like the finger groove and this might be what ultimately sinks this blade for me. It is just too heavy to be a lightweight option, and at that weight and it's price point ($48 as configured) I think there are better bushcrafting/survival options. I'll be sending this one back. For what I am looking for, the Robust or Heavy Duty lines are more in line with my expectations...or I might just accept that the original Companion, a flimsy knife I paid $12 for, is actually the best tool for my needs. As an American I am so used to overpaying for junk that it's tough for me to wrap my mind around it when something so cheap is of such high quality.
The Fiskars X7 is incredible! When I picked up the box I thought "there's no way a hatchet can be in here"...and I opened it with a little trepidation because I thought they messed up my order. Turns out this thing is just incredibly light and it eats wood like a chainsaw! I was highly impressed with the chopping and splitting ability of this thing. Since I carry a saw, I was more concerned with the splitting ability of the tool which is why I chose the Fiskars; it has a very wedge-like head but is still a great chopper unlike a dedicated splitting axe. This thing out-chops and out-splits my large survival knives by a mile and weighs about the same as a BK9 and is lighter than a Junglas. I'm really glad I explored my options and didn't just stick with my (saw+knife=backpacking perfection) philosophy. I might stop abusing my knives become an axe man after all...
If you suffered through that novel, here is a little porn to reward you.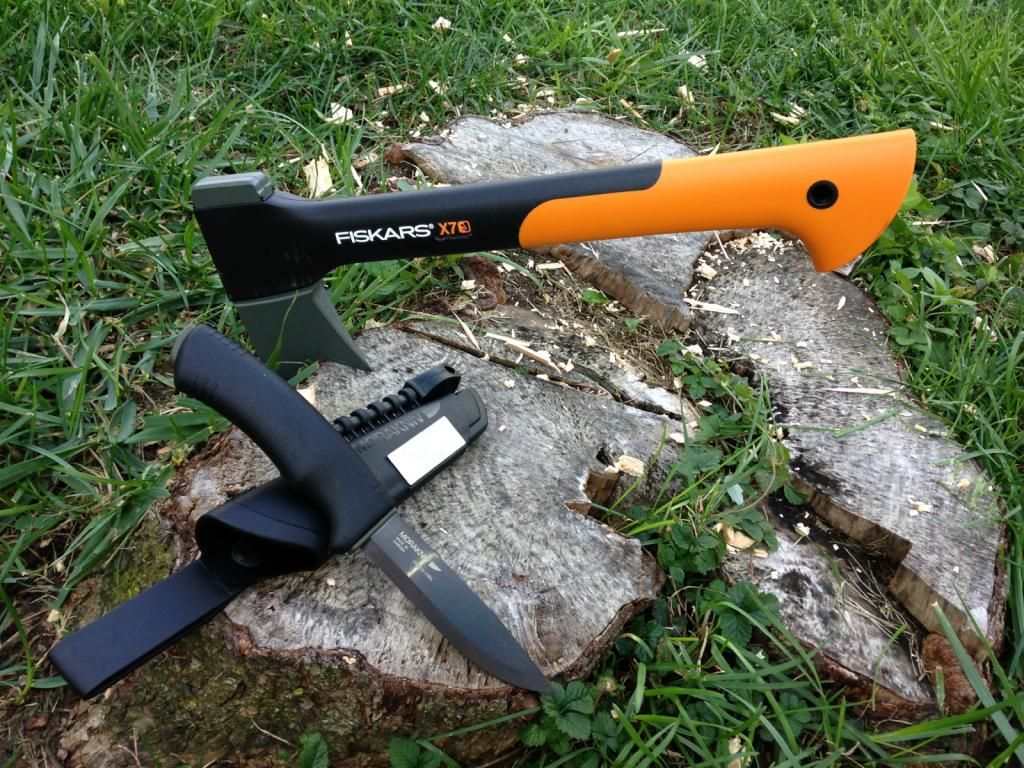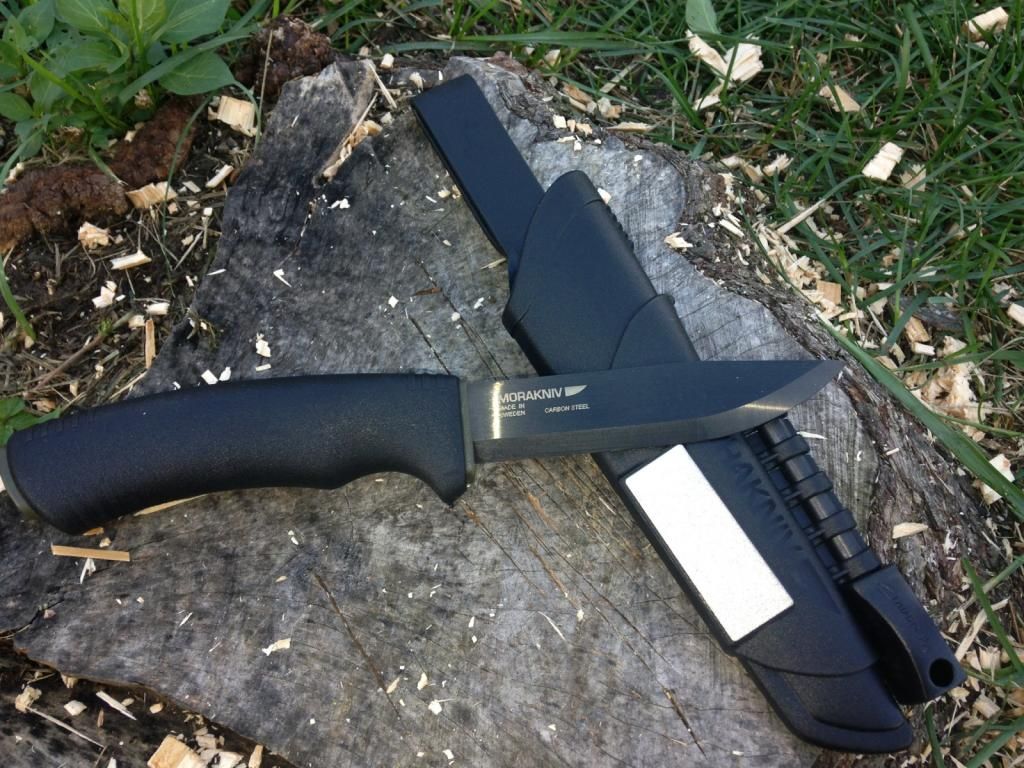 Next to the Tops BOB- I don't know about the actual specs, but the Mora doesn't feel very much lighter than the BOB
You can see how much bigger it is than the companion, and you can really feel it in the hand/on the belt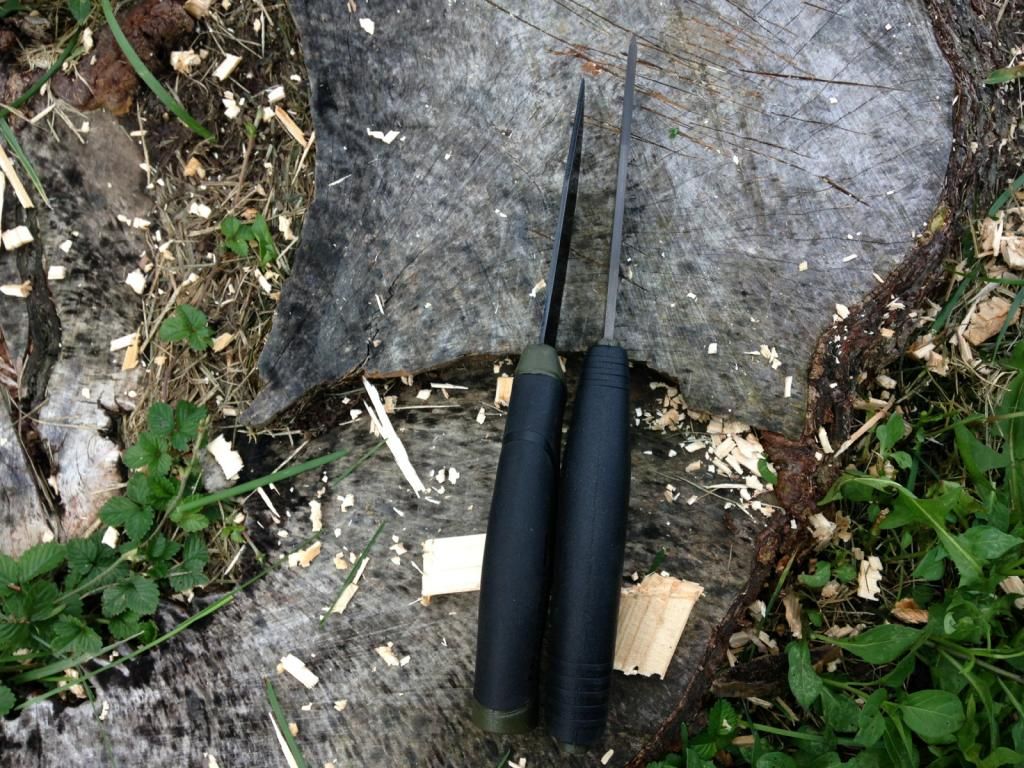 Last edited: