I was sorting some old magazines recently and ran across a couple of Cold Steel ads that I thought you guys might enjoy. I don't believe we have a repository for such things, so please feel free to add to this thread any advertising that you find.
From a January 1984
Inside Kung Fu
, which means that this ad was created in 1983. It's not actually Cold Steel's ad--in fact, Cold Steel isn't even mentioned--but it's fun to see the whole lineup from back when the whole lineup consisted of five knives!

I thought I'd include this classic from the February 1985 issue of
The Blade Magazine
. Cold Steel's insistence on performance, as well as its willingness to test competing models, was there from the beginning. It may not have won the company many allies in the industry, but it sure did win over a lot of customers, including me!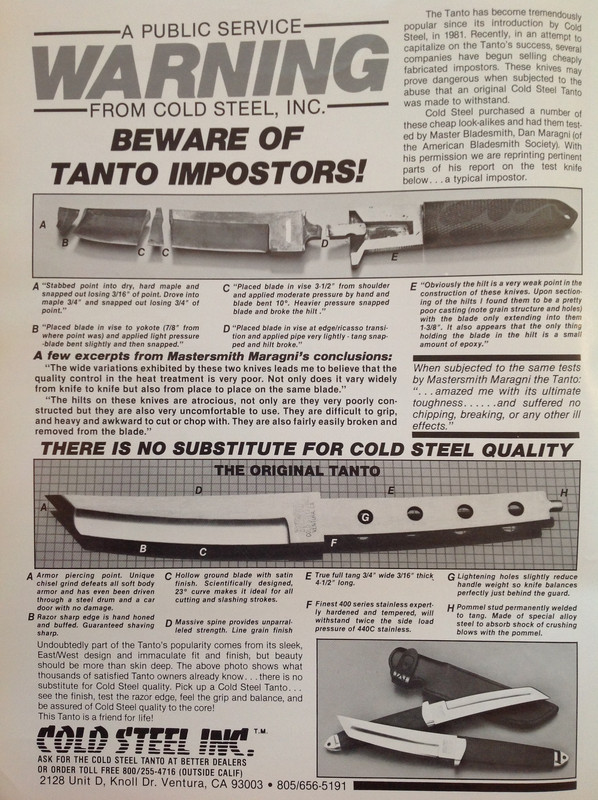 This Special Projects ad from the Winter 1994 issue of
Knives Illustrated
isn't particularly exciting, but it's somewhat informative. The cover mentions the introduction of the Voyager series and the return of the Trail Master (I didn't realize that it ever went out of production). It's interesting to see an early rendering of the Arc Angel, too.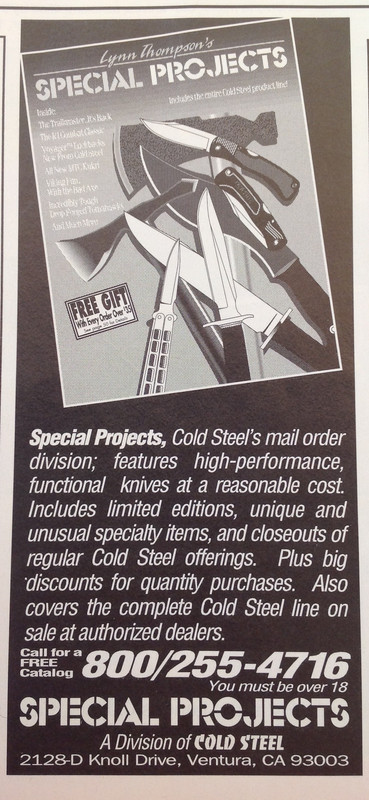 Cold Steel's ad was sandwiched in between ads for knife-fighting training/videos from James Keating and from Paul Vunak. Good luck finding advertising for such fare in modern issues of
Knives Illustrated
! I don't mean to sound like an aging curmudgeon, but sometimes I really miss the Good Ol' Days....
-Steve